Date Visited: July 1, 2012
The Twin Cities Men's Adult Baseball League has 18+ and 28+ wooden bat teams (the 18 and 28 are the age of the players). The Voyageurs are in the 28+ category. They are part of the amateur Men's Adult Baseball League (MABL).
This was my first visit to a men's amateur league and now I'm looking for a team near where I live. It's just the baseball game. That's it - there's no music; no between inning promotions; no concessions. It's fantastic if you want to watch a game for the game.
Van Cleve Park is located in the Como Neighborhood on the corner of 15th Ave and Como and it appears to be a very nice neighborhood and park.
The home dugout at Van Cleve Park. Additional practice areas are beyond the dugout. Lots of chain link fences at this park. Not a bad thing for the protection of the kids. You can see the skyline of St. Paul towards the middle/right of photo.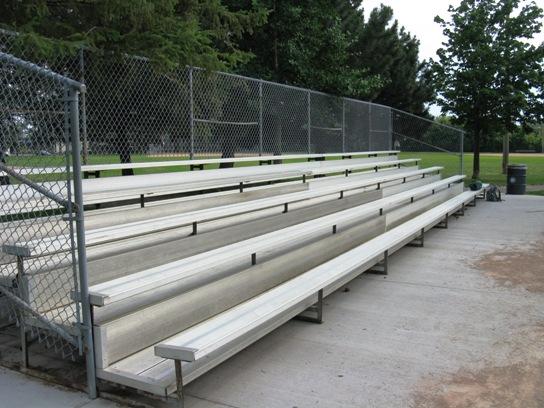 There are five bleacher seats directly behind home plate for fans and visitors to sit and watch the game. I thank Adam for keeping me company during the game. He is a player for the Voyageurs but was suspended for the game I attended because of something that happened in the previous game.
On a side note, I had many, different conversations with fans here than in professional minor league venues I have visited: For example: "Do you know the Lord?", "Player #8, does he have relatives in North Dakota?", "Are there bathrooms?". The umpire asked me a couple of times, "What inning is it and what is the score?" At first I thought he was making conversation but I wondered about that towards the end of the game. "Why are the players not wearing gloves?" from a few basketball fans.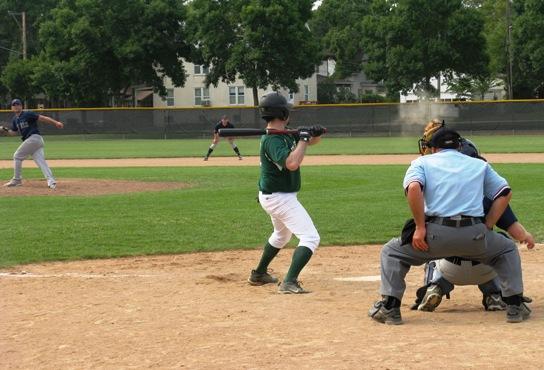 You can see a bit of the neighborhood beyond right field in this photo. Also notice the puff of dust (above the umpires head) from the caught pitch.
This photo is one of the few photos I take where I get to see the ball in flight. That's my friend, Michael, at bat. I'm not even going to comment on the umpire's position.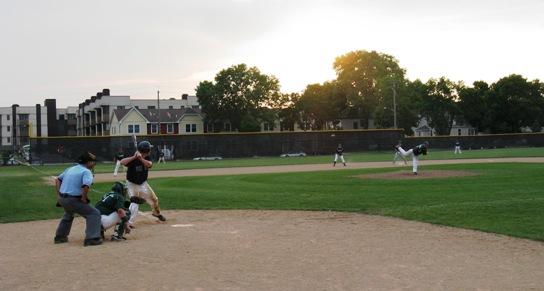 It was a fantastic ballgame to watch. So evenly played and nail biting pitches/plays in the 9th. Lots of runs and activity in the bottom of the 8th and top of the 9th.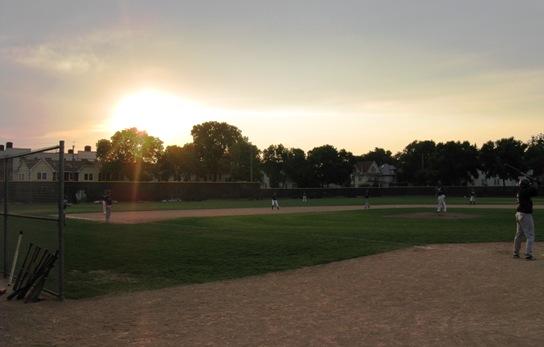 The Voyageurs ended up winning 11 - 10 in a very close game. Congrats to all players and enjoy the game of baseball in years to come. And thanks for a beautiful sunset.