Note:
I loved my baseball trip to Oklahoma City as well as the city itself and have already planned a return trip to see a hockey game and plenty of the other tourist spots this town has to offer.
The stadium displays and honors many baseball players born in the state of OK with statues outside the stadium and photos and posters inside of individuals and teams.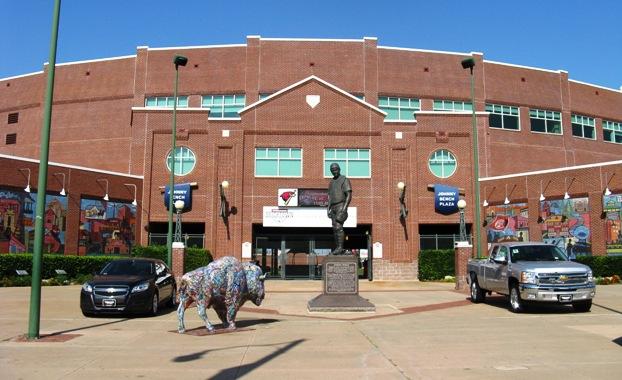 This is what I call the Johnny Bench entrance. It's got your statue and tribute to the player in the center of the photo. There is mosaic-style artwork on the brick walls on the left and right sides of the entryway. This artwork pays homage to the neighborhood's history.
There is your painted buffalo that is from the Spirit of the Buffalo public art project which was held 2004 - 2006.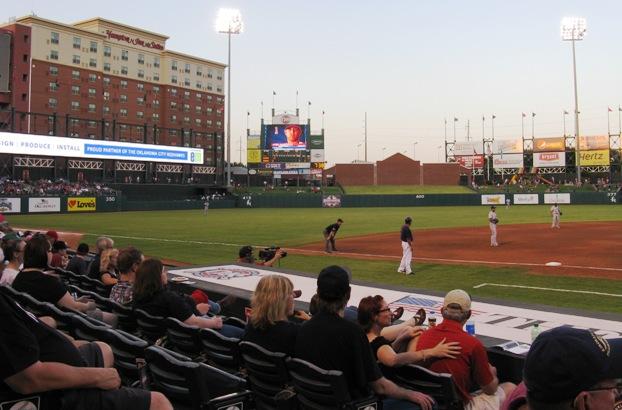 The field from the third base side. The building beyond the left field wall is a Hampton Inn & Suites and it takes about 30 secs to walk to the park. One can get rooms facing the ballpark. It's where I stayed and I'd recommend it.
The Redhawks had some of the more interesting between inning entertainment. Things that made you use your brain. Word games like:
What do these three words have in common: Lennon, Deere, Wayne
or
I'M you
or
-------
READ
-------
(see footer for answers)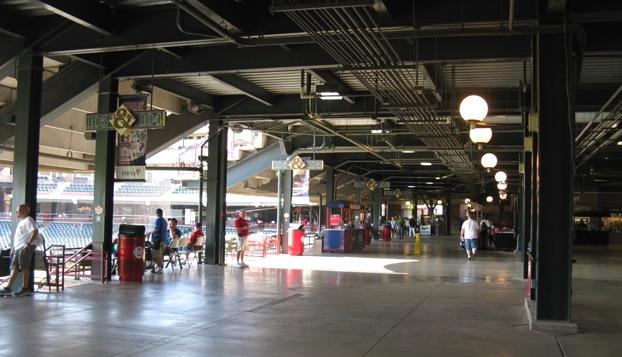 A nice wide, open concourse. Sections are clearly marked. The lights on the right side of photo are actually painted as baseballs. They did play 'Oklahoma' from the musical and many fans stood and sang along.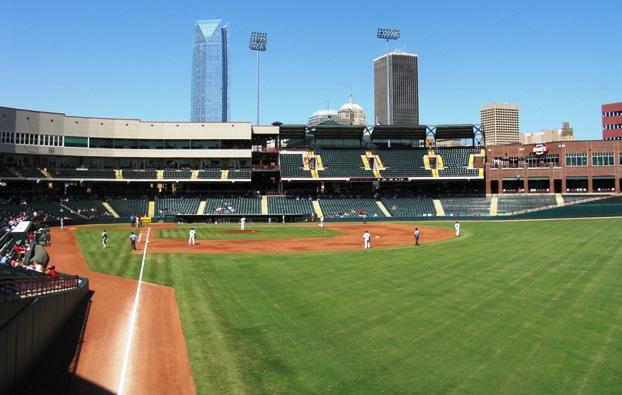 A view from the right field foul line. The tallest building in Oklahoma known as the Devon Tower is seen beyond the first base side.
Most fans were stand or sitting in the shaded areas as it was 105 degrees F at this game. Fortunately, this game lasted 2 hours and 5 minutes.